*Able Camper is supported by its audience. When you buy via links on this site, we may earn an affiliate commission. Learn more
If you're an adventurous camper seeking outdoor thrills through all seasons, you'll definitely want to keep a tent heater handy. 
Tent heaters come in a range of styles, power levels, and price points. With the sheer amount of choices available, it can definitely be tough to come to a final decision. 
No one tent heater is built for every camper. It all depends on your specific requirements and the type of environment you'll be venturing out into.
Why Should You Get a Tent Heater? 
Campers who limit their outdoor adventures to the spring and fall will likely be able to get by without having to invest in a tent heater. 
However, all-season campers will definitely want to add this utility to their arsenals.  A tent heater allows you the freedom to camp all year 'round. You get to decide when your expeditions take place rather than leaving the choice up to Mother Nature. 
A few generations ago, camping in the winter was simply not a feasible option. Today, with the technology at our disposal, tent heaters allow us a great level of comfort when camping in cold weather. Of course, it's important to note that camping in the cold is not recommended for beginners, even with the use of a good tent heater. If you decide to go ahead anyway, it would be wise to read up on some camping tips.
You need to be well-equipped with reliable winter gear (which includes heavy clothing, a 4-season tent and a high quality sleeping bag), and you definitely need to enter the expedition with a good amount of experience. 
That said, even the most experienced survivalists should definitely take a raincheck if particularly dangerous weather is forecasted. If the trip poses no serious risk, there's a lot to be gained by camping in the winter. Campsites aren't nearly as crowded as they are in fair weather. You'll be able to bond with nature in a completely different way. 
You'll also take pride in spending a whole weekend outdoors despite the cold weather. Not every camper is willing to take on the challenge. 
Bottom line — when camping in the cold, a good heater will allow you to retreat to a warm, comfortable tent whenever you need a break from the weather.
Which Tent Heater Is Best For You? 
Tent heaters can be broken down into three categories
ELECTRIC TENT HEATERS 
The more modern option, these heaters are wholly powered by electricity. 
Most models are corded, meaning you'll need access to a power supply in order to get them working. Because of that, electric tent heaters aren't the best option for minimalist campers. 
On the other hand, these heaters don't generate any toxic emissions. This makes them the safer option and a great choice for campers who prioritize energy efficiency. 
While the cost of a unit varies depending on the model, electric tent heaters are more cost-effective in the long-run. They don't require any fuel in order to function — simply plug in and enjoy the warmth. 
GAS TENT HEATERS
Gas tent heaters are definitely more popular among minimalist campers. 
The majority of models are totally portable, so you don't need to worry about a power source. On top of that, the average gas heater will generate more heat than the average electric heater. Campers looking to trek in especially cold weather will definitely favor this option. 
Of course, the drawback is that you'll need to continuously invest in fuel. All that fuel burning isn't good for the environment, either. Safe use requires proper ventilation, though some power sources are less harmful than others. 
If you're comfortable with stocking up on fuel and are ready to take the safety precautions, gas tent heaters offer a great amount of convenience. 
BATTERY-POWERED TENT HEATERS
While battery-powered tent heaters comprise the smallest and most portable category, they don't offer nearly as much heat as their counterparts. 
This makes them a good option if the campsite weather is only slightly chilly. But if you're looking to camp in the middle of winter, you'll definitely want to invest in a decent gas heater. Furthermore, there are fewer available options for this type of tent heater than others. 
If all you need is a light, portable heating source, then battery-powered heaters are worth considering. Just make sure you pack enough batteries for the ride! 
With all that in mind, let's take a close look at the 7 best tent heaters for camping in 2020.
The Lasko 6405 Designer Oscillating Heater is among the market's top picks for electric tent heaters. 
With its lightweight, wholly portable build, the unit is a convenient addition to every camper's arsenal.
Despite being compact, this heater offers considerable output. It can produce 1500 watts of heat for up to 7 hours. You can also expect a broad range of coverage thanks to its oscillating functionality.
There's no need to wait long for your tent to heat up, either. Simply turn it on, and there will be a noticeable difference in temperature within minutes. 
Depending on how much heat you're looking for, you can toggle between the unit's low and high settings. 
With an automatic shut off function, you can rest easy knowing that it will power down before it risks overheating. 
Although there's no remote control, you can manage the Lasko 6405 Designer Oscillating Heater's settings via responsive, electronic touch control operation. 
Its functionality comes wrapped in a pleasant, curved design, with earth tones that match the natural landscape of the campsite.
The elegant metallic base is a unique feature that you won't find in the aesthetic of its competitors. 
Customers are covered by a three year warranty, which only adds to the list of benefits that this nifty tent heater has to offer.
If heating power is your top priority, look no further than the Dura Heat DH2304S Kerosene Heater. 
With 23,800 BTUs and an effective area of 1800 square feet, you can stay warm while camping in the harshest weather conditions nature has to offer. 
Though of course, that doesn't mean you should test it out by camping in a blizzard!
The unit's design allows it to generate heat in a 360 degree radius. You'll notice a huge difference in temperature the moment you turn it on. 
The manufacturers designed this tent heater to be wholly resilient to harsh climates. This does come at the cost of portability — at 27.4 pounds, it's by no means a light unit. 
Still, if you're looking for this type of power, it's best to place portability at the bottom of your list of priorities. 
An added benefit of the Dura Heat DH2304S Kerosene Heater is that it produces a considerable amount of light — a handy feature when camping at night. 
With up to 12 hours of running time on a full tank, you can leave the unit on throughout the day without having to refill it.
You can rest easy, too, since the protective exterior grille is an optimal safety feature. 
This tent heater is powered by kerosene, which is a bit of a toss-up. 
On the one hand, kerosene is a powerful medium that allows the unit to generate heat quite quickly. 
On the other, kerosene is relatively expensive and not readily available. Furthermore, it produces an unpleasant odor when active. 
However, if you're looking to prepare yourself for the harshest camping climates, this tent heater is definitely worth looking into.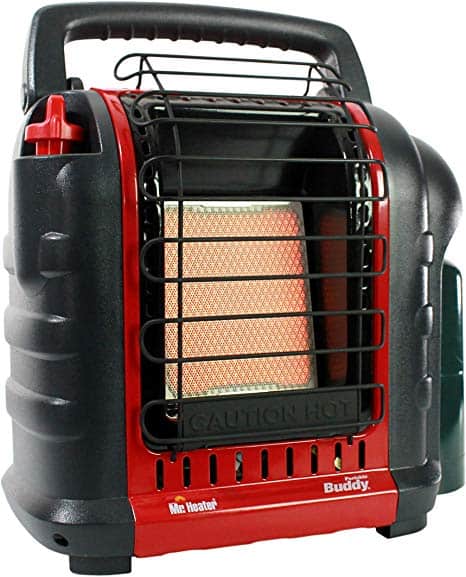 pros
Add a few dot points here incase the reader wishes to skim read the page.
Add more pros than cons
cons
Add a few dot points here incase the reader wishes to skim read the page.
The Mr. Heater F232000 MH9BX Buddy Tent Heater offers a combination of power and convenience. 
Its output ranges from 4,000 to 9,000 BTUs and covers a 225 square foot radius. With that kind of coverage, even the largest tents can be sufficiently heated. 
At 9 pounds, this unit is quite portable. It even comes with a fold-down handle that makes it easy to transport along the campsite. 
You can connect a 1 lb. propane cylinder directly to the heater. It also comes with a swivel regulator that allows you to connect to a remote gas supply via hose and filter. 
A downside to this model is that, in its portable mode, it doesn't offer long lasting power on a single full tank. When operating in its low power mode, you can expect up to 4.5 hours of heat. 
So, if you're looking for reliable, portable use of this tent heater, it's definitely recommended that you stock up on gas before venturing out into the wild. 
The unit is quite safe to use — the auto shut-off function will activate immediately should it tip over. 
It will also shut off automatically if it detects low oxygen levels or if it's made to operate at altitudes of 7,000 feet above sea level. This does make it unsuitable for those looking to scale massive mountains.
For the average camper, though, there's a lot of great functionality here, offered at a reasonable price. 
This product does come with a warranty, but be sure not to use any third party accessories or attachments. Not only is this considered unsafe, but it will effectively void the warranty.  
The Costway Portable Radiator Heater might not be the most powerful or portable tent heater in this list. However, considering it's highly attractive price point, it offers a ton of bang for buck. 
Being relatively lightweight and coming equipped with a front carry handle, this tent heater is a breeze to transport. 
With an output of 700 watts, even families camping in larger tents will feel the warmth accumulating before too long.  However, this doesn't compare to the output of more powerful models.
There's no touch pad, remote control or any other modern bells and whistles to be found here — just simple functionality. The adjustable thermostat allows you full control over the unit's output. 
The Costway Portable Radiator Heater runs on sealed oil technology, which is a modest engineering marvel. The unit will permanently maintain oil without the need for a refill. 
This allows it to heat up the surrounding space at an impressive speed. 
With built-in heat control, this tent heater definitely passes our safety test. It will automatically shut off whenever it detects a risk of overheating or is set off balance. 
Take note that the unit is available is one size only. However, being such a reliable, versatile tent heater, one size is all most campers will likely need. 
If you still aren't convinced by all of the above, consider the 1 year warranty that comes with the Costway Portable Radiator Heater. Factoring its price point, the manufacturers are offering great customer service.
pros
High portability
High power output
Multiple configurations to choose from
For campers seeking a compact, portable propane heater, the Camco Olympian Gas Catalytic Heater is definitely a solid contender. 
Although this is a small tent heater, it's optimally designed with a large heating surface that allows it to convey heat throughout a large space. 
Campers will primarily use this tent heater as a portable unit. However, it's built with the added option of being used as a wall-mounted unit. 
While that doesn't count for much if you plan on using it strictly in a tent, it's definitely worth considering if you camp in an RV. 
The built-in safety shut off feature offers campers peace of mind knowing that the unit won't combust in light of a non-ignition fuel discharge. 
The Camco Olympian Gas Catalytic Heater doesn't come cheap, but it's definitely made for the long run. Its embedded electric sparker will last for up to 20,000 starts. 
It comes in three main configurations: 3000 BTUs, 6000 BTUs and 8000 BTUs. The middle model is made to heat an area of up to 230 square feet. 
There's a lot to gain by choosing this impressive tent heater. If you're comfortable with investing the amount, you'll surely be comfortable throughout your all-season expeditions.  
 The Honeywell 360-Degree Surround Heater is a fantastic option for campers on a budget. 
It won't produce the same amount of heat as its higher-produced competitors, but it offers a ton of comfort relative to its small size and price point. 
This tent heater's design allows it to expel heat in 360 degrees. Small and even medium-sized tents will feel the warmth in no time at all. 
Toggle the temperature to your liking with the unit's adjustable thermostat and dual heat settings. At its low setting, this tent heater is impressively energy efficient. 
You can also rest easy knowing that the built-in safety features will cause the unit to shut off automatically if it overheats or is tipped in any direction. 
If its compact size didn't offer enough in terms of portability, the unit also comes with a convenient handle for easy transport. 
Despite all that, you should keep in mind that this tent heater requires a power source in order to operate. Purely minimalist campers will likely want to consider other options. 
If your campsite offers access to power, or if you're camping in an RV, this is definitely a great choice. Especially when you're on a budget.
pros
Highly portable
Great safety features
Odor free
cons
Expensive compared to similarly sized heaters
If the standard Mr. Heater Buddy tent heater is too bulky and powerful for your camping needs, this mini version it definitely worth having a look at. 
The Mr. Heater Little Buddy is small enough to strap onto your backpack. Despite that, it's still capable of heating a considerable space of up to 95 square feet. 
Since it's the smallest tent heater in our list, it's also the best at heating tight spaces without getting in the way. With its adjustable 45 degree heating angle, you can point its output in your desired direction. 
As always, Mr. Heater has your safety covered. Your Little Buddy will cease power output immediately should it ever tip over. Its safety features will also trigger automatic shut off once the unit detects low oxygen levels. 
This, along with some basic vigilance, will help you avoid the worst case scenario. 
On a full tank, the tiny tent heater boasts an impressive 5 ½ hours of running time. During that time, it will operate at full capacity without expelling any odors. 
All of these attractive features make the Mr. Heater Little Buddy the ideal choice for minimalists looking to camp in a one or two-person tent.
TENT HEATER SAFETY TIPS
Tent heaters offer a ton of convenience, but they also come with a serious health and safety risk. Even the slightest amount of negligence can lead to a fire, and even the smallest fire can lead to a forest fire. 
Electric heaters are considered the safest option. Since their output is generally lower than gas heaters, they come with a reduced risk of combustion.
That said, an electric heater can still cause a fire if flammable material comes into contact with its heating elements. Regardless of the type of unit you're using, always ensure to keep flammable material a safe distance away from your heater.
Keep in mind that gas heaters create carbon monoxide and carbon dioxide, which is a significant additional safety risk.  Every gas heater will come with instructions on how much ventilation is needed in order to ensure safe use. Follow these instructions to the T. 
It's also a good practice for gas heater users to keep a carbon monoxide detector in the tent. Though keep in mind that some models come with built-in detectors, which is a great convenience. Remember, it's your responsibility to remain vigilant whenever your tent heater is operating. 
Some campers are confident enough to have their units operate at a low setting while sleeping. In our view, the risks presented in this case greatly outweigh the comfort gained by sleeping with the heater on. 
If you fail to wake up should something go wrong, you're risking serious harm to yourself and others.
FINAL VERDICT
There's no one tent heater that's perfect for everyone, so you'll need to do some thinking before making the choice. 
If you plan on camping at a site with a readily available power source, you can include all electric tent heaters among your options. If not, and you're looking for a wholly portable tent heater, then you'll be restricted to gas and battery-powered units. 
Campers looking to venture out in the middle of winter will likely favor gas tent heaters due to the levels of output they offer. Those worried about the potential risks of gas heaters will lean more toward electric options. 
As with every aspect of camping where fire is a risk, be sure to place safety at the very top of your list of priorities. 
Finally, budget is always a major concern. Keep in mind that gas heaters are more expensive in the long run due to refueling costs. Thankfully, there are great options for all types of tent heaters available at relatively low prices. 
In the end, it's all up to you. Take your time, and choose wisely! 
Latest posts by Rocco Bambace
(see all)