*Able Camper is supported by its audience. When you buy via links on this site, we may earn an affiliate commission. Learn more
Camping under the starry sky in the wilderness is a fantastic experience. But, sometimes you need a little tent lighting to be able to relax at night, despite the darkness of the world around you.
If you've struggled to find a good solution for illuminating your tent while camping, worry not. Up next, we've put together a list of five top tips for in-tent lighting when you're far from the nearest outlet.
1. Headlamps Are Your Friend
Headlamps are pretty standard in most backpacking gear lists. However, many campers still use flashlights for reading, relaxing, and general night-time lighting.
While we certainly have nothing against a good ol' fashioned flashlight, headlamps are superior for camping purposes. When it comes to lighting up your tent, a headlamp is the better choice because they allow you to have two free hands at all times.
So, the next time you're packing up your gear for a camping trip, consider taking a headlamp instead of your trusty flashlight. You won't regret it!
2. Bring String Lights
String lights (a.k.a. fairy lights or Christmas lights) are a must for any camping trip. Lightweight, battery-powered string lights can be quickly hung up inside your tent. Then, when you turn the string lights on, you get instant lighting throughout your entire camping shelter.
Although string lights can't – and shouldn't – replace your headlamp for general lighting, they are awesome when it comes to illuminating the majority of your tent. This is especially true if you're camping with small children who might not be able to wear a headlamp for an extended period of time.
Plus, string lights provide a great, cozy ambiance for curling up in your sleeping bag at night. They're also just bright enough to use as reading lights so you don't have to burn through your headlamp batteries.
If you don't want to hang up your string lights, they also work well inside Nalgene-style plastic water bottles and glass mason jars – just make sure they're empty first! Simply turn on the battery-powered lights and stuff the string into the bottle or jar. Then, you have a lightweight and portable lighting option for your campsite.
3. Bring A Lantern
If you need a little bit more lighting than a set of string lights can provide, a lantern is your next best bet. There are plenty of great compact lanterns out there, such as the Black Diamond Moji, which are easy enough to pack, whether you're car camping or backpacking.
Alternatively, for longer and more remote camping trips, an inflatable lantern is a solid choice. Luci Outdoor Solar Inflatable Lanterns are perhaps the best-known when it comes to compact, lightweight lantern options. These little lanterns are fully solar-powered and pack down to about the size of a deck of cards. They also float, so they're great for nighttime swims in the lake while camping.
4. DIY Headlamp Lantern
If you're not interested in packing a lantern or a set of string lights, you can always make your own DIY version. The DIY headlamp lantern is perhaps the simplest way to illuminate your tent without a purpose-built lantern.
To build a DIY lantern, do the following:
Get your headlamp and a filled Nalgene water bottle (or something similar) at the ready.
Place the light of the headlamp at the bottom of the water bottle.
While holding the light in place, stretch the strap of the headlamp, and wrap it around the water bottle. This should secure the light to the bottle, but you may have to tighten the strap to keep it in place.
Turn the light on and illuminate your tent!
5. Get A Lighted Tent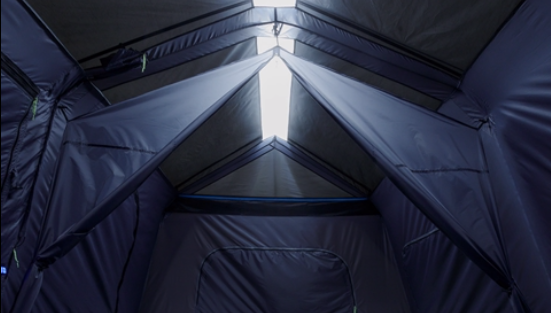 If you're looking to replicate the nighttime lighting you get at home while camping, a lighted tent is your best option. The CORE Lighted Instant Cabin 12 is a great choice for families and larger groups that want to keep things simple while camping.
With lighted tents, your nighttime illumination is already built-in. All you need to do is flip on a switch, and you get instant LED lighting, even when you're far from an outlet.
Latest posts by Gaby Pilson
(see all)